Assurances
In FRANCOR we offer our customers an absolute guarantee that their project will take place smoothly, obtaining the results expected in terms of delivery time, specified quality and cost of the work, we accomplish this by implementing some of the actions set out in the following areas:
Safety
We have a safety
Health and environmental system oriented to accident prevention whose major actions may include the following: medical examinations for personnel, performing drug tests and breathalyzer, training in different security issues throughout the year, introductory course in safety for new personnel, medical examination, provision of uniform and full protective gear (safety shoes, helmet, safety glasses, hearing protection and gloves) and special protective equipment according to the activities undertaken, periodic review of tools and safety equipment, handling of hazardous work permits, safety audits in the works obtained a rating of the degree of compliance, five-minute daily talks on various topics of safety, security supervisor allocation to works, preparation of risk analysis before starting activities, etc.
Quality
All works are supervised by professionals
In the relevant areas (civil, electrical and mechanical engineers), we use materials of… recognized brands, we have quality certificates of materials, we perform laboratory tests for some materials and in different critical stages of the work (earthworks compaction tests, concrete strength tests, welding test, testing insulation resistance in electrical systems, etc.), at the end of the project we deliver the project file containing all the information related to the works performed.
Supervision
All works have a full-time dedicated supervisor.
In large sites, we have a site manager and several supervisors to ensure the proper execution of the work. Moreover, works are frequently supervised by the construction manager. In site, we have detailed information on the project (drawings, calculation reports, specifications, etc.) to direct the work smoothly and to take the necessary decisions. A work program is stablished since the beginning of the project and is reviewed weekly to ensure compliance with delivery times. A strict financial control is followed to keep the work within budget. Regular meetings are held with clients to keep them informed the project progress and the changes that have arisen.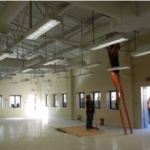 Housekeeping
We maintain… high standard of housekeeping.
Materials are orderly stored in the warehouse and the site is kept clean, leftover materials and tools are collected daily, mobile offices and bathrooms are kept clean and tidy, if necessary, works are encapsulated to prevent contamination to adjacent areas. The work areas area identified and a space is reserved for each activity.

Documentation
We offer bonds and we sing construction contracts.